GM Speedometer Repair
CALGARY ALBERTA

Instrument Cluster Gauge Repair
Gauges not working? fuel gauge, gas gauge not working, temp gauge not working, oil gauge not working, speedometer gauge not working, rpm gauge not working, PRND321 not working? All gauges not working? We can Help!
GM Common symptoms include:
Speedometer displays incorrectly
Speedometer stops working
Tachometer needle sticks, jumps, or pegs out
Fuel gauge flutters
Entire instrument panel fails
The common cause for all these issues is a faulty stepper motor. The motor was used throughout GM's entire production line from 2003 to 2007. For those with a technical bent, this includes the GMT800, K20, GM360, and GMX380 platforms.
Models affected include:
Chevy Gauge Repair Avalanche
Chevy Gauge Repair Silverado
Chevy Gauge Repair Suburban
Chevy Gauge Repair Tahoe
Chevy Gauge Repair Impala
Chevy Gauge Repair Trailblazer
Chevy Gauge Repair Monte Carlo
Chevy Gauge Repair Express Van
GMC Gauge Repair Yukon
GMC Gauge Repair Yukon XL
GMC Gauge Repair Sierra
GMC Gauge Repair Savana Van
GMC Gauge Repair Envoy
GMC Gauge Repair Denali
Cadillac Escalade Guage Repair
Cadillac Escalade ESV Gauge Repair
Cadillac Escalade EXT Gauge Repair
Hummer H2 Gauge Repair
Pontiac Sunfire Gauge Repair
How common is the GM Speedometer Gauge issue?
Answer: The stepper motor at the heart of the issue was used throughout the GM line from 2003 until 2007. Our rough estimate is that this problem affects roughly 4 million cars and trucks.
How do I remove the instrument cluster? the most common name used in this industry is called the Speedometer Cluster
Answer: See picture below. Removal of the cluster is a straight forward process that shouldn't take more than a few minutes.The removal process is roughly the same for all 2003 to 2006 GM models.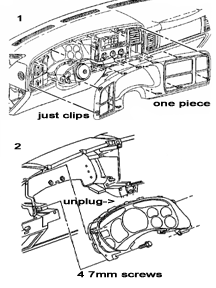 1. Apply the parking brake to prevent the vehicle from moving.
2. If equipped with an automatic transmission, move the shift lever all the way down to last gear (this will allow you room to remove the bezel).
3. Tilt the steering wheel to the full down position. You do not need to remove the steering wheel as seen in the image - "Picture 1"Top.
4. Pull gently rearward on the corners of the bezel from the instrument panel assembly. There are no screws holding in place. See "Picture 1"Top.
5. Remove the bezel.
6. Remove the four (7mm hex head) screws that retain the Instrument Panel Cluster. See "Picture 2"Top.
7. Remove the Speedometer Cluster from the vehicle by tilting the bottom of the cluster outward.
8. Disconnect the Speedometer harness (2) by squezing in it's Blue top and bottom clamp tab and pulling moderately.
Please Note! your original Mileage stored in the cluster has nothing to do with replacing Motors or lights in your Instrument Cluster. It will always stay the same.
Programming The Original Mileage back on the Speedometer Cluster that is replaced with a used one or new one
Yes! If the original miles need to be put back on this will not be a problem. Prospeedo can Program 98% of all Digital Instrument Clusters you see on the market today. See Disclaimer Form below.
Disclaimer Form

Please Note! You must read, print and sign our Disclaimer Form before any work will be performed. Disclaimer form must be sent back with your package.
When sending packages to Canada, please mark down on paper work, "Used Circuit Board for Repair and Return Only!" Value to be no more then $20.00 Thanks!
Tech Support and Knowledge
Prospeedo is ranked number one by many other speedometer shops in the World for Tech Support and Speedometer related problems or questions others might have in this industry. Our knowledge is second to none. Ask any other speedometer shop about Prospeedo. Answer: Yes everyone knows Prospeedo.com
How long does it take to fix my Speedometer?
Most Instrument Cluster/Speedometers/Hour Meters take 20 minutes up to 2 hours depending on how extensive the repair is. Any packages that Prospeedo receives go out the same day by Fedex
Worlds Largest Online Speedometer Shop
Now Open In Calgary Alberta Canada
Canada Alberta Speedometer Repair Pros!
Call 403-809-3903 Instrument Cluster Repair Gm Fix Made Simple 2003 to 2006
Calgary Edmonton And Surrounding Areas Speedometer Repair Instrument Cluster Repair Hour Meter Repair Canada Alberta
Saskatchewan Hour Meter Repair
We have been Helping our farmers out for over 21 years fixing Hour Meter Problems!
We work on John Deere, Case, Cat, New Holland, White, Etc.
We also work on Wheel loaders, Dozers, Excavators, Combines, Cotton pickers etc. the list goes on and on. If you have any Digital Hour Meter problems you need fixed email us. Thanks